Illinois Convening Resource Page
Shortlink to this document: https://bit.ly/Illinois-Convening-Resouces
Thank you for joining us at the Illinois Convening on November 13, 2021 
Watch the FACEBOOK LIVESTREAM: https://fb.watch/9fO2P67bWR/
YouTube Illinois Convening Playlist
Zoom recording link .
AGENDA
1:00p CT
Welcome: Indivisible Illinois

Intro:

Leni Manaa-Hoppenworth

, Indivisible IL9, Indivisible Illinois

We Are Indivisible:

Ezra Levin

Intro:

Scott Cross

, Indivisible Springfield, Indivisible Illinois

If we organize, we can change the world:

Heather Booth

Intro:

Annie Williams

, Indivisible Oak Park, Illinois Handmaids

Keep it Blue in 2022:

Justin Marcoviche-Garnett,

Indivisible NWSOFA, Blue Man Group
1:55p CT
Words That WIN

: Messaging Training

Intro:

Rose Colacino

, Heartland Resistance Coalition, Indivisible Illinois
3:00p CT
Keynote

: Rev. William Barber

: Waking the Sleeping Giant — Poor People's Campaign

Intro:

Jessica Motsinger

, Indivisible Metro East

Rev. Aline G. Russell
Video Rev. Barber

(Rev. Barber was unable to attend but sent a video in place)
Illinois Poor People's Campaign

Intro:

Marci Adelston-Schafer

, Bend the Arc CU, CU Indivisible

Sheilah Garland-Olaniran

, Illinois Poor People's Campaign

Roadmap to 2022 – Indivisible Illinois Strategy:

Jonathon Rogoff

Indivisible IL9, Social Justice Alliance and

Rose Colacino
4:00p CT
BREAKOUT ROOMS: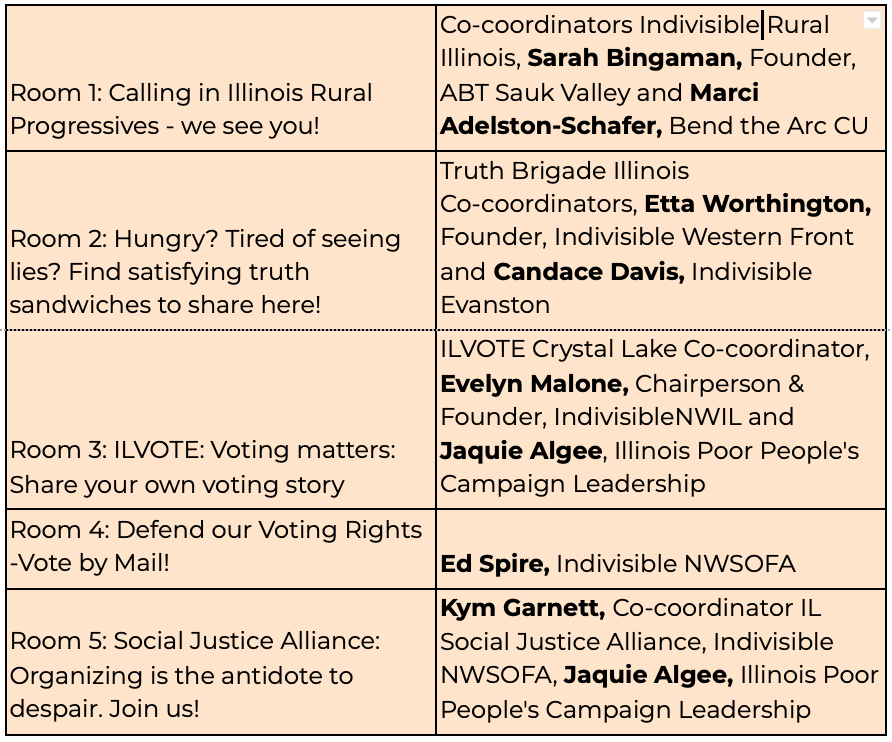 What's Learned Here Leaves Here: Breakout Room Debriefs: Sarah Bingaman, Indivisible Rural Illinois
"We All Do Better When We All Do Better" – Paul Wellstone. Closing Remarks: Rose Colacino
5:00 CT
Happy Hour: Etta Worthington, Western Front Indivisible, Truth Brigade Illinois and Cameron Macaw-Hennick, Indivisible Regional Organizer
Blue Envy
1 1/2 ounces blanco tequila

1 ounce blue curaçao liqueur

1/2 ounce pineapple juice 

Maraschino cherry, for garnish
In a cocktail shaker filled with ice cubes, pour tequila, blue curaçao, and pineapple juice.  Shake and   Strain into a chilled cocktail glass over fresh ice, if you like.  Garnish with Maraschino Cherry.
Video: Debrief, Closing Remarks and Happy Hour
About Indivisible Illinois
Illinois Convening Event Committee 
Convening Partners
Statewide Working Groups
Connect With Us
Subscribe to our newsletter
Join a listserv
Follow us on Facebook
Follow us on Twitter
Follow us on Instagram
Join us on Slack
Read articles by Indivisible Illinois
Suppression Free Democracy Roadmap to 2022
ILVOTE Breakout
Truth Brigade Breakout
Voting Rights Breakout
How do we protect the nation's voting rights?
Join groups reaching out to other states, to pressure their representatives too

Phonebank

Sinema & Manchin constituents  
Voting Rights Gazette:

THE source for information and opportunities around voting
VBM Taskforce Meetings Mondays at 8:30pm, weekly
Learn

about the Vote By Mail Taskforce
Register in advance for our weekly (Monday) meetings