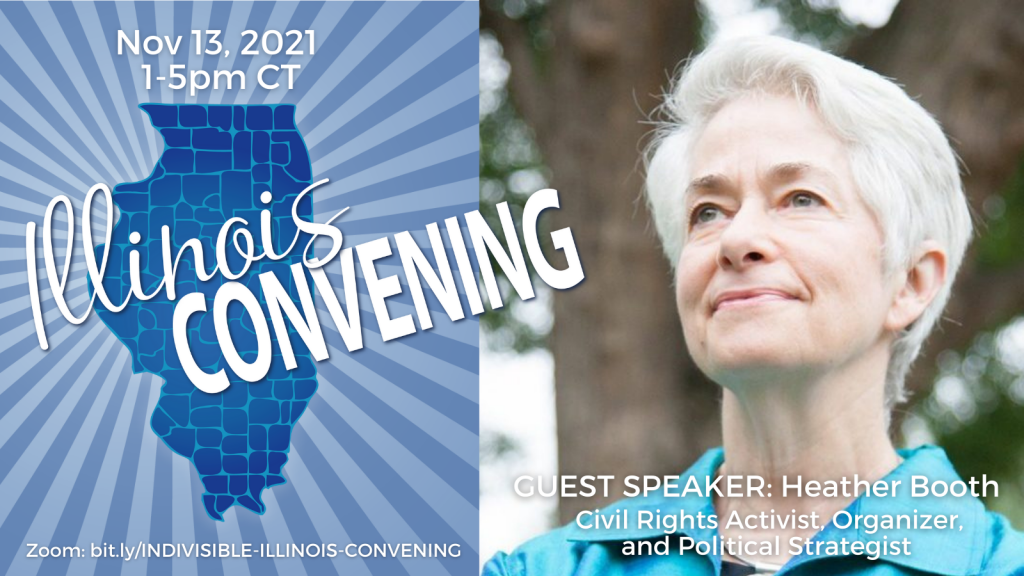 Heather Booth to join as guest speaker at the Illinois Convening, November 13, 2021
Join progressives from around the state and the midwest to strategize and learn how to keep our elections Blue in 2022 at the Illinois Convening on Saturday, November 13. We're excited to announce that noted civil rights activist, feminist, and political strategist  HEATHER BOOTH will be one of our speakers! Beginning her organizing career as a high school student toward the beginning of the modern Civil Rights Movement in the 1960s, she has become a go-to strategist for a range of issues and worked with progressive leaders such as Elizabeth Warren.
We at Indivisible Illinois are 'fired up and ready to go'. We hope you are too. Please join us on Zoom. Below is the link to register. 
RSVP: https://bit.ly/INDIVISIBLE-ILLINOIS-CONVENING
We are looking forward to seeing you there! 
October 24, 2021 save the date post
https://www.indivisibleillinois.org/illinois-convening-november-13-2021/
Chicago Reader:
She's leaving home: Heather Booth looks back on 25 years of struggle