Click here to take action now!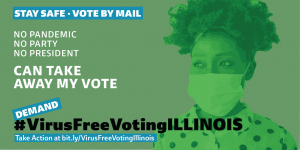 GRASSROOTS LEADERS MOBILIZE TO OPPOSE SB1863, DEMAND BETTER BILL FOR VOTE BY MAIL
Groups Vow to Continue Fighting for a Postage-Paid Ballot for Every Illinois Voter
FOR IMMEDIATE RELEASE
May 21, 2020
Contact: Rose Colacino, Indivisible Illinois, [email protected] 773-343-9849
Contact:  Leni Manaa-Hoppenworth, Indivisible Illinois, [email protected] 773-216-2067
SPRINGFIELD — Leaders of Illinois' election security coalition pledged today to mobilize their members to pass legislation that would result in a mail-in ballot being sent to every registered voter. We as a coalition of grassroots organizations demand that every registered voter automatically receives a ballot with prepaid return postage. The lack of prepaid postage will disadvantage a large swath of voters on the lower end of the economic strata. In order to ensure that all qualified voters can access the ballot box in a safe, secure, and accessible manner, a ballot must be mailed to each voter. 
"We must recognize and learn from the challenging experience of our March primary and from the even worse experience of our neighbors in Wisconsin who voted during the pandemic," said Rose Colacino, Election Integrity & Security Voters' Rights Lead for Indivisible Illinois. "Health care professionals predict that the COVID-19 virus may abate during the summer but recur in the fall. This in combination with the flu season requires us to take every precaution to ensure that voters do not have to risk their health and safety in order to vote," she added.
The current proposal by Sen. Terry Link and Rep. Greg Harris, SB1863, does not include the protections that will expand the electorate and ensure a safe voting process for the November election. We demand:
Every registered voter should get a ballot and be assured that all jurisdictions will include envelopes with prepaid postage.

Early voting hours and days must be expanded.

A statewide ballot tracking mechanism must be created to provide transparency in receiving, tracking, and returning ballots.
"We are disappointed in the proposal of Rep. Greg Harris, which would only slightly increase the number of mailed ballots," said Matt Flamm, an Illinois election lawyer. "The way to safeguard Illinois voters' health is to mail a ballot to every registered voter with return postage prepaid. At least seven states already do that including California, New Jersey, Hawaii, Oregon, Washington, Colorado, and Utah. Illinois should be able to do the same," said Flamm.
About Indivisible Illinois
Indivisible Illinois is part of the locally-led, people-powered Indivisible Project network, a grassroots American movement founded in 2016, with thousands of chapters in urban, suburban and rural areas, with at least two groups in every congressional district. Indivisible Illinois engages and empowers people in the Land of Lincoln, the Home of Obama, the Heart of the Midwest, to promote a progressive agenda, elect progressive leaders and realize progressive government.
###