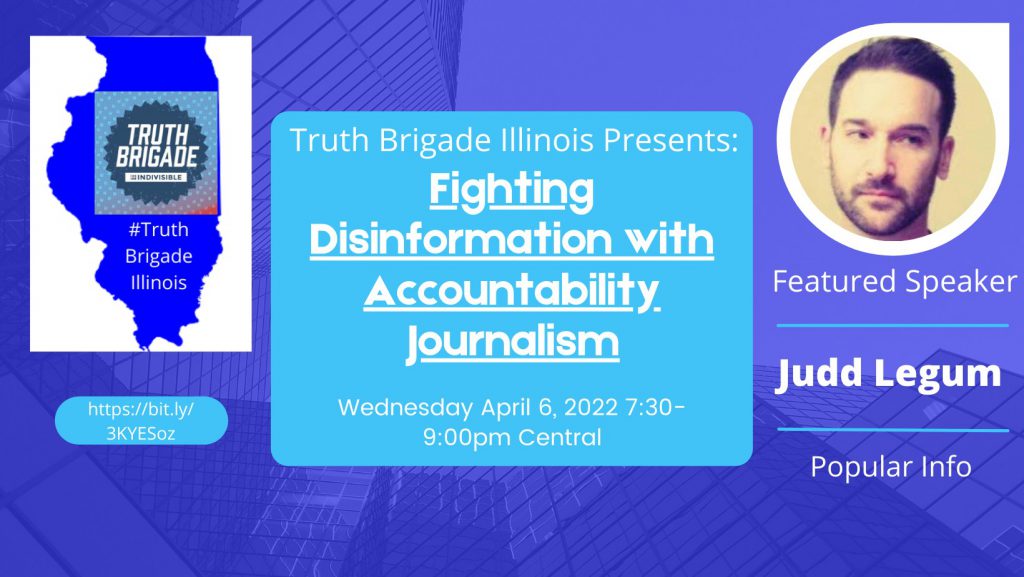 Judd Legum creator of Popular Information joined Truth Brigade Illinois on Wednesday April 6, 2022 speaking about Fighting Disinformation with Accountability Journalism. Judd spoke about the different types of misinformation and disinformation and shared some of his experiences pursuing and reporting the truth.  We also reviewed Truth Brigade Illinois and its purpose and methods.  We also discussed Squad 303's efforts to contact Russian citizens to provide them with information they are not receiving from their government and demonstrated how their platform works.  A recording is available
here.
Judd Legum is the creator of Popular Information, which provides daily news and analysis from a progressive viewpoint which helps guide you through the news and what's important. Judd will address how we can fight disinformation with Accountability Journalism.
————————————————-
The Truth Brigade is people (us!) fighting disinformation by sharing the truth.  We have learned that arguing with people on Facebook or Twitter or Instagram or anywhere else doesn't work.  When we comment or answer postings that contain misinformation, we unfortunately just boost the original post, so more people see the lies.  Instead, we are creating our own truthful posts to counter the hurtful lies that are out there.  We do that by creating "truth sandwiches" – a true statement that reflects our values followed by a response that questions the author's motives. This is followed by another true statement sharing our vision.  We have found that people respond best to positive statements, so a truth sandwich can be a great way to get the truth out there and discredit lies.