by Gretchen Coleman @ballot_z
Goal of Twitterstorm
The goal of the Twitterstorm is to use Twitter strategically to proliferate reliable, reputable election information and voting resources on users' feeds. The strategy takes two main forms:
Get hashtags trending:

Each tweet during the Twitterstorm features the same hashtags (for the Consolidated Election effort, we're using #VirusFreeVotingIllinois and #twill). Using these hashtags repeatedly within a set period of time increases the likelihood that the hashtag will start trending on Twitter.
Tweet "hunting":

During the Twitterstorm, we look for recent tweets from Twitter "influencers" – politicians, public figures, celebrities, etc. – who are reaching our desired audience. We add comments on these recent tweets that provide information and resources about the upcoming elections. This way, when a user opens this influencer's tweet, our comment with the helpful information will be listed underneath.
Key to both of these strategies is the amplification of others' tweets. We encourage volunteers to both tweet on their own accounts as well as interact with (like, comment, retweet) everyone else's tweets – this boosts the tweets in the Twitter algorithm.
Election authorities and politicians have expressed the need for grassroots support for spreading reputable election information on social media, so we've developed the Twitterstorm techniques to fit this need. This is an important supplement to other organizing efforts like canvassing and phone banking.
Background
Indivisible Illinois and NWSOFA have been hosting regular Twitterstorms since early summer 2020. The first goal was to encourage participation in vote by mail in response to COVID-19 for the 2020 presidential election. The next  big round was to promote turnout in the 2021 Georgia runoff elections. For this current rendition, Ballot Z has joined the effort to increase awareness of and participation in the Illinois Consolidated Election on April 6, where we provide general information about voting procedures and local election resources. New also this round is the inclusion of local candidates. Each week focuses on a different region/set of candidates across the state; we give these candidates a platform to talk about important issues, and we incorporate their messaging and campaign needs into the evening's tweets. 
Structure
Weekly events:

We hold a Twitterstorm every week over Zoom to give volunteers a chance to gather and amplify each others' tweets. For the Consolidated Election, the storms are 6-8 every Thursday. We tend to spend about half an hour featuring local candidates and then go over the toolkit and other materials for the evening. The next hour or so is spent tweeting (while playing music in the background), with a few check-ins to touch base. The last fifteen minutes is a debrief to ask questions and share successes.
Planning/messaging:

Each week before the Twitterstorm (currently, Mondays from 5:30-6:30), we meet to discuss logistics and strategize messaging for the week. Our Twitterstorm is constantly evolving in response to feedback from experts and our own improving understanding of Twitter, so we're always looking to improve on our past efforts. 
Results
Ballot Z website traffic since we began the Twitterstorms:
(we use this as a resource in most of our tweets, so it's a pretty good indicator of tweet success – you can see it spike every Thursday/Friday after the Twitterstorm!)
#VirusFreeVotingIllinois reach 3/4-3/11
We use the free website socialbearing.com to track tweet impressions.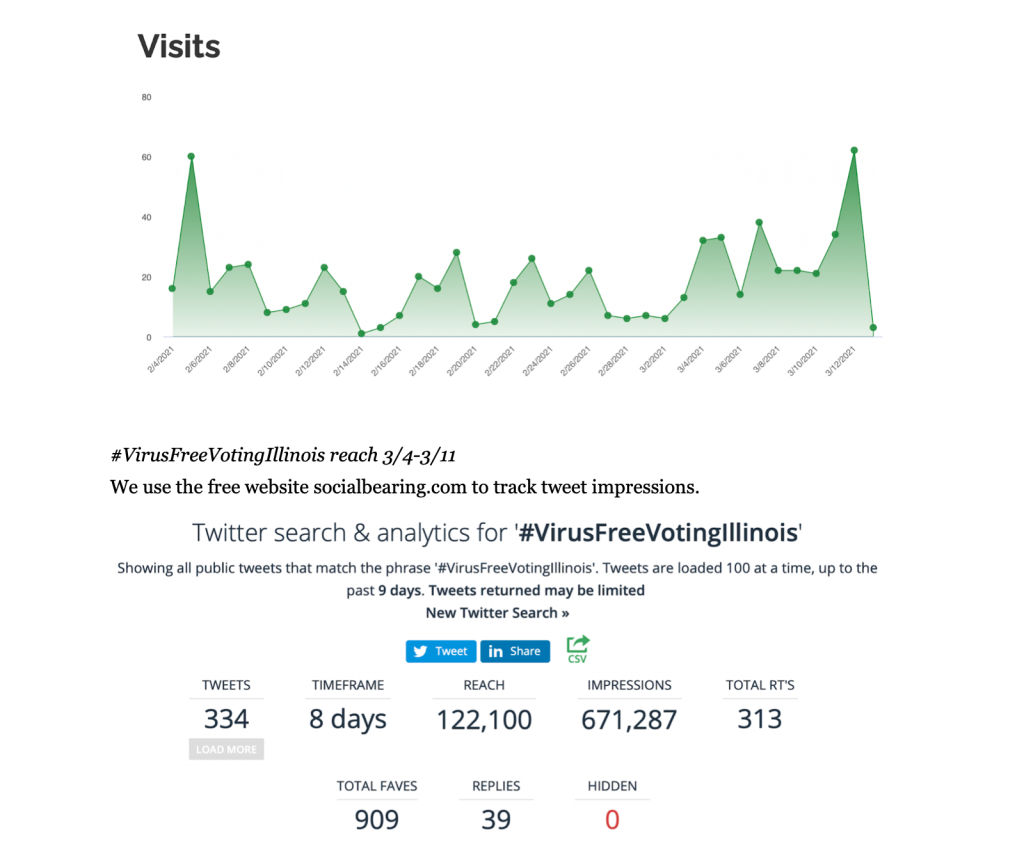 Next: Tweet-o-Rama
We're going to celebrate the culmination of this election's efforts with a "Tweet-o-Rama" on April 1st! In addition to our regularly-scheduled 6-8pm Twitterstorm, we'll be inviting all past candidates back during the day to do one final GOTV push. We have a special toolkit to make it easy for people to participate for even just a few minutes throughout the day. Join us on April 1st to boost turnout for this vital but underappreciated part of our democracy!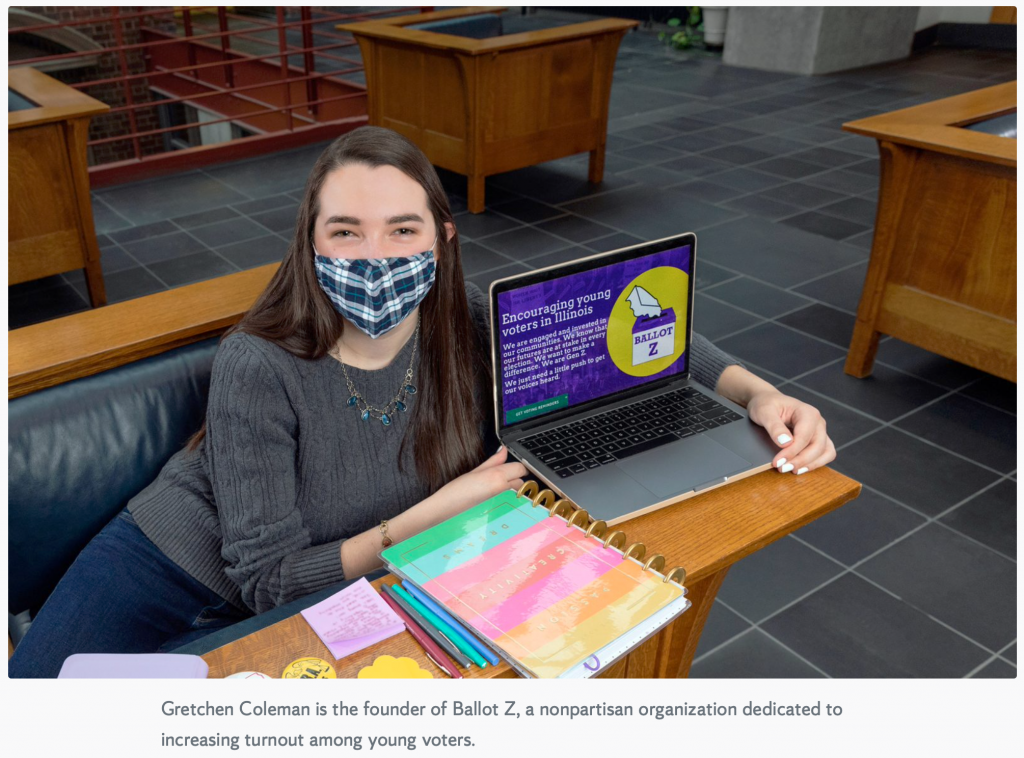 Photo: Syracuse.edu