INDIVISIBLE IL9 ENDORSES THE PRETRIAL FAIRNESS ACT SB4025
November 24, 2020
Contact: IL9@Indivisibleil.com
Contact: Natalie Nespoli Moreira natalielizabeth8@gmail.com
Report from Lobby Day
Natalie Nespoli Moreira, Indivisible IL9 member: "It was my first Lobby day experience with SB4025- and a zoom one at that! We were gathered by folks from the Community Renewal Society and before each meeting we met and designated the constituents who would moderate, present the issue, a personal experience or story,  the solution, and the ask: My representatives were Senator Steans and Representative Cassidy and they both needed no persuading so we felt lucky, but also grateful that this essential bill had their support. It was a super special experience to be able to be a part of this process, the existence of Cash Bail is a reflection of destructive capitalism, and putting money before human beings. Poor people are not more threatening than the rich and wealthy. It is an expression of a racist and classist justice system. We must eliminate our economic foundation with the tainted revenue system of exploitation and greed. The Pretrial Fairness Act is exciting, and necessary to move forward into an antiracist, and progressive Illinois."
Indivisible IL9 endorsed the Pretrial Fairness Act SB4025 on November 20, 2020.
Background and Actions:
See Coalition to End Money Bond for full details
THE PROBLEM: Our current system is broken. When courts use money bonds, it means that access to money becomes the deciding factor in determining whether someone remains in jail before the outcome of their case. Currently, money bonds compromise public safety because wealth, not safety, determines who remains in jail pretrial.
THE SOLUTION: The Pretrial Fairness Act 4025 (PFA) sponsored by Senator Robert Peters and Representative Justin Slaughter reforms the pretrial justice system and ends the use of money bonds. It focuses the court on protecting public safety and ensuring people will return to court. The PFA makes our system fairer by ensuring county resources are used only to detain people who pose a risk to public safety. It alleviates the financial burden money bonds place on innocent families, ensures that access to wealth, or lack thereof, is not the reason people are detained in or released from jail, and assures that poverty is not a driver of incarceration.
SB 4025 WILL:
—–PROHIBIT THE USE OF MONEY BOND. No one will be incarcerated before they go to trial simply because they cannot afford to pay a certain amount of money.
—–MAINTAIN PUBLIC SAFETY AND JUDICIAL DISCRETION WITHOUT USING MONEY by establishing a legal process that allows judges to order pretrial detention in serious cases where the accused presents a specific risk of harming others or fleeing, while providing legal safeguards required by the state and U.S. Constitution to ensure that pretrial detention is limited to only those that require it.
—–IMPROVE SYSTEM EFFICIENCY by giving law enforcement the ability to release a person after an arrest if they do not pose a safety risk and gives the Court an added tool to ensure court appearance through Notices to Appear along with warrants.
—–INCREASE GOVERNMENT TRANSPARENCY AND ACCOUNTABILITY by requiring that statewide data on detention hearings, pretrial incarceration and other key metrics be collected regularly and made public.
ENDING MONEY BOND WORKS: Illinois would not be alone in ending money bond. The federal, state juvenile, and D.C. criminal systems have worked for decades without money bonds.
New Jersey essentially ended money bond in 2017. The vast majority of people released came back to court and were not charged with a new offense. Crime rates, both violent and nonviolent, went down." Endmoneybond.org
This is why Indivisible IL9 stand with the demands of the END MONEY BOND MOVEMENT and the supports Senate Bill 4025 "Pretrial Fairness Act"
What will it do if we pass this bill:
End Use of Money Bond
The Act prohibits courts from requiring the payment of money in exchange for release from jail for people who are merely accused and not convicted.
Create Clear Process for Bond Hearings
The Act establishes a process in which judges make a clear decision at an initial bond hearing and either detain ore release the accused person pending trial. Money plays no role in the new process, which allows judges to consider risks regarding safety and flight while still respecting the U.S and Illinois state constitutions' protections guaranteeing most people their right to pretrial liberty.
Simplify Factors for Determining Release and Detention Decisions
The Act establishes six clear factors for determining conditions of release that fully encompass any community safety considerations and the need to ensure that accused individuals return to court by replacing the overly burdensome 37 factors in the current statute with:
nature and circumstance of the offense charged;
weight of the evidence against the accused;
the history and characteristics of the accused;
the risk of danger to another person;
the risk of obstruction of justice/flight; and • the optional use of a risk assessment tool.
Give Law Enforcement Release Authority
The Act gives police the authority to release a recently arrested person without requiring an appearance before a judge in all cases except for first-degree murder, attempted first-degree murder, and a violent sexual offense.
Options for Warrant Alternatives
If a released individual does not appear for a court date or violates a condition of release, the Act gives the court the option to issue an order to show cause and deliver it to the home of the accused in lieu of issuing an immediate arrest warrant. This frees up law enforcement from the requirement of immediately and forcefully bringing in an accused person who may voluntarily return to court.
Reform Sentences for Pretrial Release Violations
The Act reduces the penalty for violating a condition of pretrial release or electronic monitoring. The penalty would be reduced from the current Class 3 felony (punishable by 3 to 7 years in prison) to a Class A misdemeanor (punishable by up to 365 days in jail) for most cases.
Plan for State Data Collection
The Act requires state leaders to develop a plan for the statewide collection and publication of data on outcomes at bond hearings and the bond status of people in jail. Local court officials would be required to provide the data, which would then be analyzed and published by state.
Community members share their stories in a brief video here launched from The Coalition to End Money Bond: ACLU ILLINOIS, A JUST HARVEST, BELIEVERS BAIL OUT, CHICAGO APPLESEED for JUSTICE, CHICAGO COMMUNITY FUND, COMMUNITY RENEWAL SOCIETY, ILLINOIS PRISON PROJECT, CHICAGO METROPOLITAN ASSOCIATION, NEHEMIAH TRINITY RISING, THE NEXT MOVEMENT, SHRIVER CENTER, THE PEOPLE'S LOBBY, S.O.U.L, WORKERS CENTER for RACIAL JUSTICE:
WHO ARE WE JOINING?
100 Organizations in Support to End Money Bond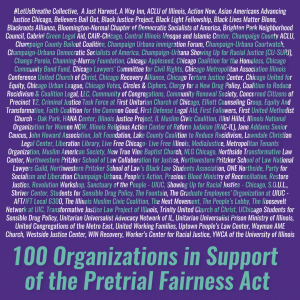 Actions:
Tag supporting reps and thank them…..tag opposing reps and express your disappointment
Share why this issue is important to you on social media:
Use
#ENDMONEYBAIL
#ENDPRETRIALDETENTION
Speak to your friends and families and join the campaign!!
About Indivisible IL9:
Indivisible IL9 Andersonville-Edgewater is a diverse group of concerned residents and allies of the Illinois 9th Congressional District, working strategically to ensure justice for all. Indivisible IL9 is a part of a national network that aligns with the movement following the Indivisible Guide. We believe that a successful democracy depends on an informed and engaged constituency. We value Diversity; Equity and Inclusion; Respect and Non-violence.
Our Organizing Statement
"We are Chicagoland residents and allies who are pursuing a more diverse, equitable, and inclusive society by organizing in support for (or against) policies and candidates to achieve economic and social justice."