Please join our Antiracist Work Group (AWG), Sunday Dec 27 from 10-11am CT
This week, we will be discussing the Department of Interior, as well as the historic nomination of Deb Haaland to the position of Secretary of Interior. If confirmed, she will be the first Indigenous person to serve in a cabinet position. Starting next week (Hello, January!) we'll begin reading 
Me and White Supremacy
by Layla F. Saad together  — see below for more details on that.
Here are some resources for tomorrow's discussion (thank you, Cynthia for providing these links!)
Semi-related (in that it pertains to Indigenous people and it happened on this day in history):
Antiracist Actions to Take This Week
Letter to Mayor Lightfoot
On Dec 22, Indivisible IL9 sent this letter to Mayor Lightfoot. Please read it and share it with your networks. If you live in the city of Chicago, call your Alder and ask them how they are holding the Mayor accountable and how they will bring transparency, integrity, and trust to our City government.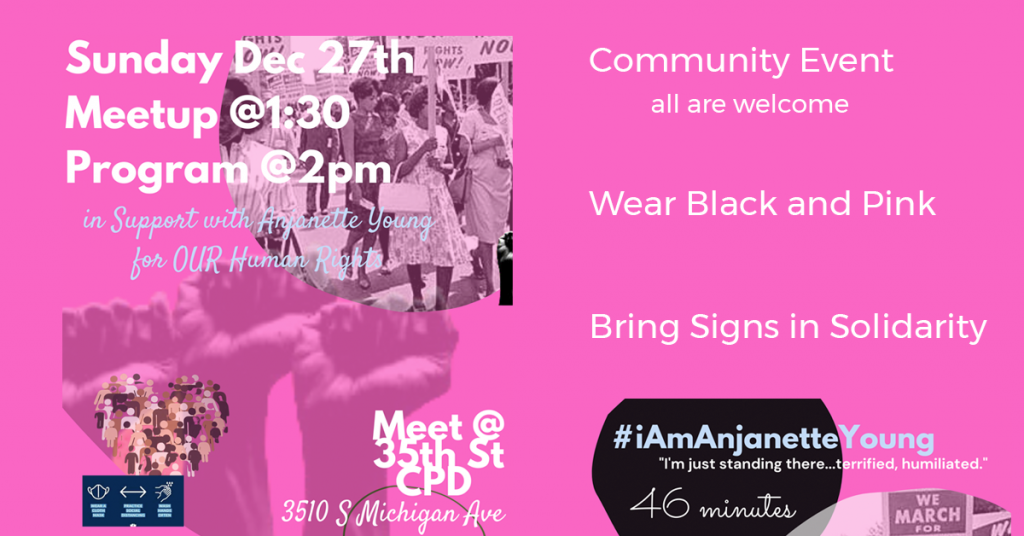 Women's March tomorrow (Sunday, Dec 27)
#iAmAnjanetteYoung Women's March TOMORROW (Sunday) Dec 27th at 2pm at 3510 S. Michigan Ave.
See poster below for details or more information here.
Next Week = Me and White Supremacy
In January, we will be reading the book Me and White Supremacy by Layla F. Saad together. Here's a great article to read or listen to on NPR all about the book. The book contains daily prompts for 28 days. Each week, we will come together on Sundays and discuss our experiences that week.
The book is readily available at the Chicago Public Library and via Hoopla. Here are the topics each week:
Jan 3: Introduction: If you have any questions about getting the book or what's entailed, this is the place for that. We'll start with the prompts that day.
Jan 10: White Privilege; White Fragility; Tone Policing; White Silence; White Superiority; White Exceptionalism
Jan 17: Color Blindness; Anti-Blackness against Black Women, Black Men, and Black Children; Racist Stereotypes; Cultural Appropriation

Jan 24: White Apathy; White Centering; Tokenism; White Saviorism; Optical Allyship; Being Called Out/Called In

Jan 31: Friends; Family; Values; Losing Privilege; Your Commitments.
Whether you've been with us for the past six months or if you're brand new to our group, you are welcome to join us for this January event. Examining the impact of white supremacy on our society and our own role in upholding it is a critical part of building an antiracist world.
Tomorrow's meeting will be facilitated by Cynthia W and me.