Indivisible Illinois joins AAUW Naperville, Chicago Women Take Action, IL NOW, League of Women Voters Illinois, LWV Chicago, LWV Naperville, LWV Southside, NAACP of DuPage County, National Association of University Women-Windy City Branch, NCJW Chicago North Shore, NCJW South Cook, Protest to the Polls, Rainbow PUSH Coalition, SEIU HealthcareIL/IN/MO/KS, She Votes IL, Women's March Chicago, Women of the 7th Congressional District and others  for a virtual town hall on Zoom.
Promoting Equity IL – Does My Vote Still Count?
Virtual Town Hall on Zoom
Monday, Nov. 29, 2021
7:00-8:30pm CT
"We are the people that we are waiting for, "says Rose Colacino,  Indivisible Illinois co-coordinator and leader of the Indivisible Illinois Vote-by-Mail Taskforce. "It is the citizen movements that have moved us from protest to power. Our constitutional right to vote is in fact our superpower, and that right will not be denied. That's what makes this Virtual Town Hall so important."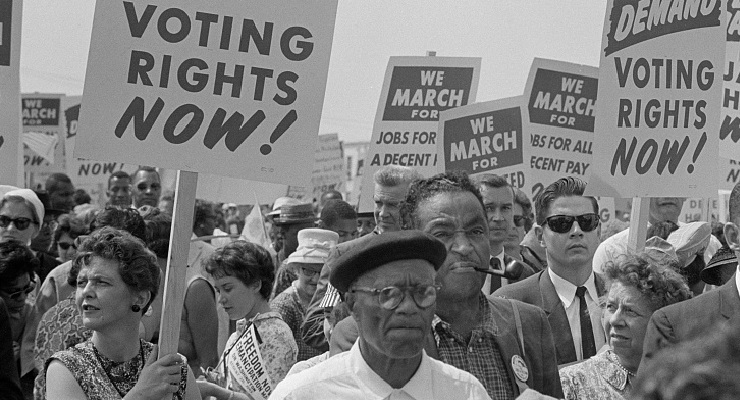 Promoting Equity IL – Does My Vote Still Count? Panel of Experts
Dr. Barbara Arnwine, Esq., President and Founder, Transformative Justice Coalition– Freedom to Vote Act and the John Lewis Voting Rights Advancement Act. – Keynote
Frederique Desrosiers, Policy Organizer Chicago Votes—Voting Rights in Prison Bill SB828.
Jay Young, Executive Director of Common Cause—Redistricting Process and Status in Illinois.
Ami Gandhi, Senior Counsel of Chicago Lawyers for Civil Rights—Racial Inequity in Voting.
Lance Gough, Former Executive Director, Chicago Board of Elections for over 30 years—Moderator
Webinar made available by DuPage County NAACP will also be streamed on Facebook live
What is the future of voting and democracy in the United States? Join us to better understand The Freedom to Vote Act and the John Lewis Voting Rights Advancement Act. What happens if they pass in Congress and what happens if they don't? We will also explore how we can strengthen voting rights in Illinois to increase racial justice and ensure that we all have a voice. Q and A will follow as will Action items.
Dr. Barbara Arnwine, Esq., president & founder of the Transformative Justice Coalition, is internationally renowned for contributions on critical justice issues including the passage of the landmark Civil Rights Act of 1991 and the 2006 reauthorization of provisions of the Voting Rights Act. Currently, she also serves as Co-Chair and Facilitator of the National Commission for Voter Justice, the Millennial Votes Matters Convenings and the Voting Rights Alliance. As past Executive Director of the Lawyers Committee for Civil Rights Under the Law, she started the 1-800-Protect the Vote Hotline. She will discuss the current federal voting bills and what we can expect and do in terms of action, if they pass or if they don't. She will also give us an update on the Ahmaud Arbery trial.

Jay Young, Executive Director of Common Cause, has long been involved in the redistricting process in Illinois, from comprehensive efforts to maximize Census 2020 participation in Illinois to repeated appearances before the House and Senate Redistricting Committees. He has had thousands of actions taken by our supporters across the state to advance the cause of a fair process and a fair map. He will share his insights with us.

Frederique Desrosiers is currently the Policy Organizer at Chicago Votes, a non-partisan, non-profit organization building a more inclusive democracy and empowering those whose voices are routinely overlooked. At Chicago Votes, she lobbies for their legislative interests and advances policies that seek to bring equity into our democratic systems. She is also a first generation Haitian American. Frederique will discuss pressing local issues including the Voting in Prison initiative.


Ami Gandhi is Senior Counsel of Chicago Lawyers for Civil Rights. Her works reduces barriers to voting and improves civic participation, especially in communities of color and low-income communities. Ami's experience includes leading statewide voter protection for the 2016 and 2020 elections, partnering with community members in the criminal legal system to expand voter access, advocating for communities of color during Illinois redistricting, and advising local election authorities as they implemented the first Hindi ballots in the country. She will discuss racial equity issues with voting.


Lance Gough, Moderator. Mr. Gough former Executive Dir. of the Chicago Board of Elections, a role in which he served for over 30 years. Throughout his tenure as Executive Director, Gough was responsible for managing voter registration and election administration for over 1.5 million voters. He managed unprecedented changes in election administration including the transition from punch cards to optical scanners and touch screens; the introduction of electronic poll books; expanded registration with online and election-day programs; and the launch of in-person early voting, no-excuse Vote By Mail and Secured Drop Boxes. Through his retirement, he continues to work with the Board in an advisory capacity.
Zoom RSVP Link: https://us06web.zoom.us/meeting/register/tZMvd–hpzIoH9Yb78PwCbX8fvJC91ng3F8k