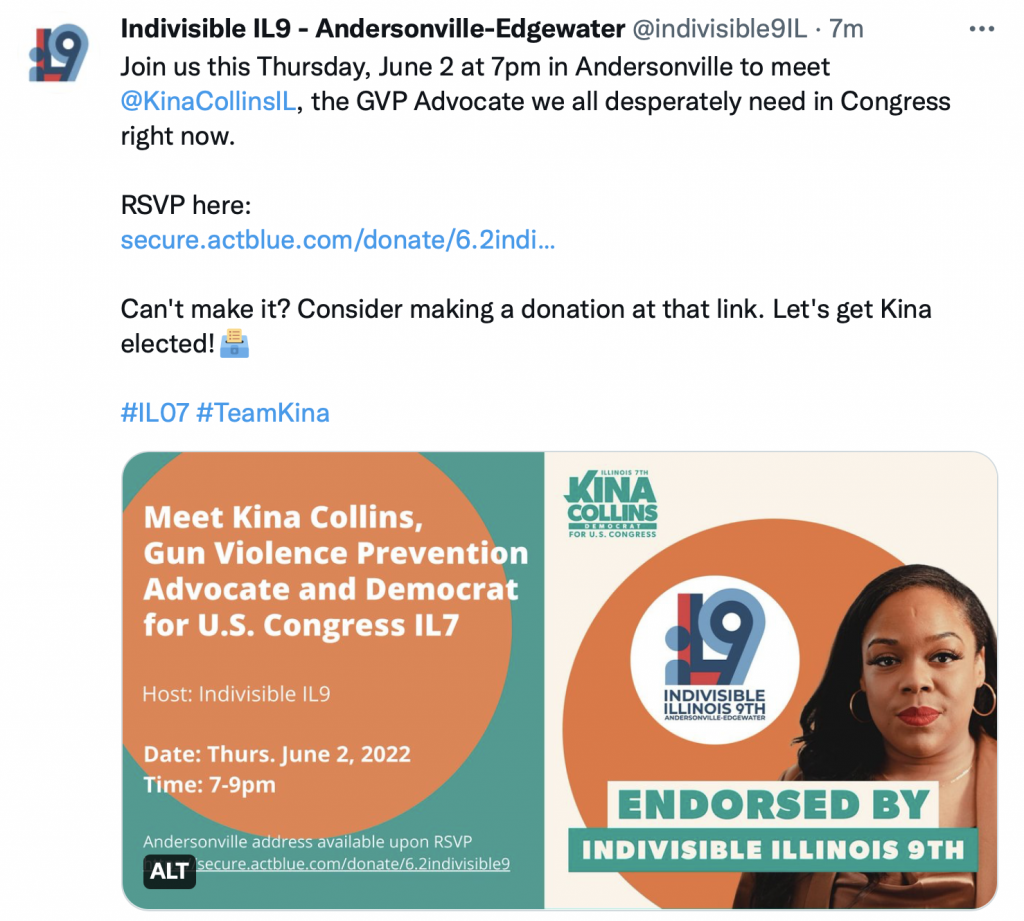 Join us in Chicago on June 2 at 7:00 – 9:00pm! with hosts: Indivisible IL 9
Date: June 2, 2022
Time: 7:00pm
Address available upon RSVP
Indivisible IL9 hosts a fundraiser for Indivisible endorsed candidate, Kina Collins. Kina Collins is a gun violence prevention advocate and Democrat running for U.S. Congress in one of the most progressive districts in our nation.
https://secure.actblue.com/donate/6.2indivisible9
ABOUT KINA
Kina Collins was born and raised on the Westside of Chicago, and is the daughter of two union parents. When she was 8 years old she witnessed a shooting murder in front of her house. She knew the victim and she knew the shooter. Since then she has devoted her life to advocating for her community. Kina is the co-author of the Illinois Council on Women and Girls Act, legislation that she successfully passed with a Republican governor in office. Most recently Kina was the executive director of the largest gun violence prevention non-profit in Illinois. 
Kina is endorsed by Justice Democrats, Indivisible, Way To Lead, Peace Action, National Organization for Women, People's Lobby, Sunrise Chicago as well as over 20 other local organizations and leaders. In 2020, she came in second to Congressman Danny Davis. This time around, Kina outraised Congressman Davis nearly 2 to 1 in her first quarter. She has the team and the support to win this race, but Danny Davis has called in every corporate favor he can find and he has come close to catching up. Kina needs our help to take on the Chicago machine and every special interest that wants things exactly as they are.
ABOUT IL-7
IL-07 is primarily in the City of Chicago, and is one of the safest democratic districts in the United States. Over the last 25 years, it has also become one of the most unequal. In downtown Chicago the life expectancy is 90 years, while on the Southside, in Englewood, it is just 60. Same district, different world. 
IL-7 is majority voters of color, and close to 45% Black. It stretches from Downtown Chicago, through the Westside of Chicago, and out to western suburbs. It also includes a portion of the Southside of Chicago. Cook PVI rates the district as D+38. 
ABOUT KINA'S OPPONENT
Danny Davis has been the Congressman for IL-7 since 1996. Under his leadership, large portions of the district have been left behind, and a gun violence epidemic has exploded. In 2020 Davis missed the third most votes of any Democrat in the IL delegation, and his campaign was 73% funded by Corporate PACs (the third highest of any Democrat). In the last year, he has given one high profile interview, and it was to defend R. Kelly after he was convicted of federal sex crimes. He is a representative who is at best, missing in action, and at worst, bought by corporations, and deeply out of touch with the people he is supposed to be representing.
PRESS
CNN: Anti-gun-violence activist Kina Collins announces primary challenge to Illinois Democrat Danny Davis
The Hill: Five Democrats the left plans to target
AP News: Chicago activists want federal charges for Jason Van Dyke
The Young Turks: Chicago Progressive Running On Gun Violence Prevention Platform
Washington Post: Democratic tensions surface as House incumbents plan defense against far-left primary challengers
Chicago Defender: Primary Challenger Kina Collins more than Doubles Rep. Danny Davis Q2 Haul
Huffington Post: Rahm Emanuel's Confirmation Hearing Falls On Laquan McDonald's Death Anniversary 
USA Today: Op-Ed: Congress must vote down Biden's misguided nomination of Rahm Emanuel
ABC News: White House defends Rahm Emanuel's ambassadorial nomination against liberal backlash 
FOR MORE INFO VISIT: 
https://twitter.com/kinacollinsil/