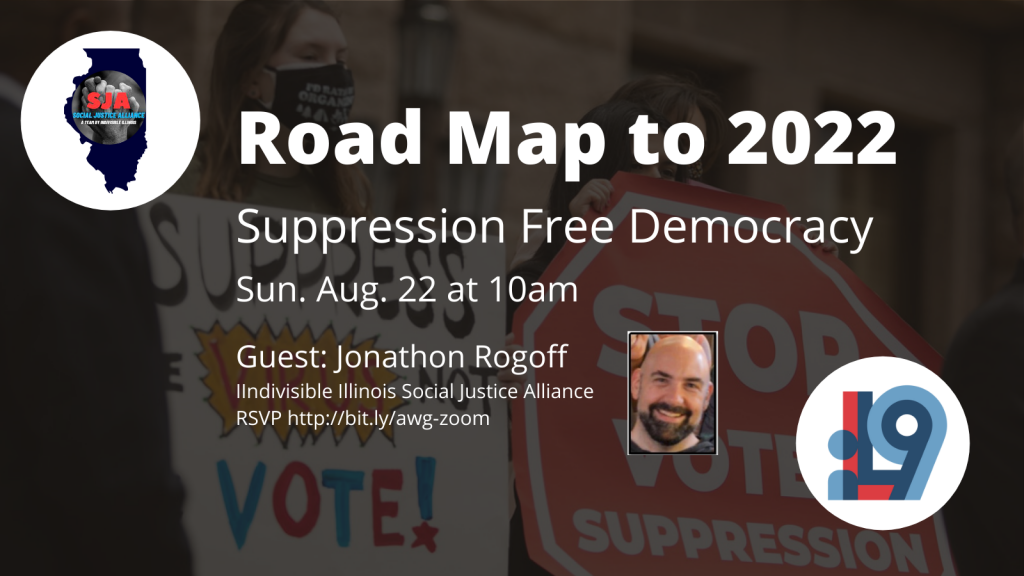 Please join our Antiracist Work Group (AWG), Sunday August 22 from 10-11am CT
This week, Jonathon Rogoff from the Indivisible Illinois Social Social Justice Alliance will be presenting Suppression-Free Democracy Road Map to 2022.
There will be plenty of time during the presentation to ask Jonathon any questions you may have about the content.
Zoom link: http://bit.ly/awg-zoom
About the Indivisible Illinois Social Justice Alliance (IISJA)
The IISJA meets every Saturday at noon CT via Zoom. All are welcome. The group follows a monthly schedule:
Week 1: Underserved community partners (C400, IPDC, Ant Mound Foundation, Sara K, etc.)
Week 2: Suppression-Free Democracy: Road to 2022 (updated each month to provide a big picture reminder as well as concrete actions people can engage with)
Week 3: Messaging Discussion (workgroup to combat disinfo related to CRT in local school boards. Considered to be a campaign issue for GOP for Midterms. Possibly involve Truth Brigade/AWG)
Week 4: Voter Registration (ILVOTE with concentration on partnering with community leaders in underserved neighborhoods)
Details about IISJA meetings, including the Zoom link, can be found here.
If you cannot make this AWG meeting but are interested in learning more about the presentation, here is the video from July's Suppression Free Democracy Road to 2022 event.
And here are the slides.
For more information about Antiracist Work Group, contact Kelly at IL9@indivisibleil.com