Make a plan to vote
Voting should be safe, secure and accessible.
But policies, procedures and other tactics create barriers seen and unseen by the average voter [ACLU]. What matters most is that everyone who can vote should be able to vote. This means that voters should be empowered with choices including in person or by absentee ballot.
In June, Gov. Pritzker of Illinois signed into law the temporary emergency vote by mail bill that expands the opportunities to vote safely in response to the COVID19 pandemic.
"Sending vote by mail applications to residents who have participated in recent elections will allow more people to exercise that right from the safety of their own homes and help reduce the spread of COVID-19 in our communities," Pritzker said in a statement that called voting by mail perhaps "the safest method to cast a ballot in November." [WTTW]
We applaud our legislators for passing this bill to help expand the vote thru vote by mail. However, we also recognize that individuals have a critical role to play and that is making a plan to vote and helping others to do the same. And one thing is certain: facilitating the formation of a voting plan (i.e., implementation intentions) can increase turnout by 4.1 percentage points among those contacted.
Pro democracy grassroots groups are activated.
Indivisible Illinois's new website virusfreevotingillinois.org  makes it easy to see the critical 2020 Illinois voter timeline. On this new website you can:
register to vote
make a plan to vote
request a mail in ballot
get active on Election Day and beyond!
Most critical is that you can find your local Indivisible group in your area doing the work not only to inform and engage their communities right now, but also to get ready to organize beyond Election Day November 3, 2020.  There will be so much more to do to help save our democracy, and we are committed to do it together.
At this year's virtual Democratic National Convention, Michelle Obama wore a V-O-T-E necklace and urged voters to cast their ballots "in person if we can."  No one can do this alone.  Let's all step up and help spread the word about voting in the 2020 election today.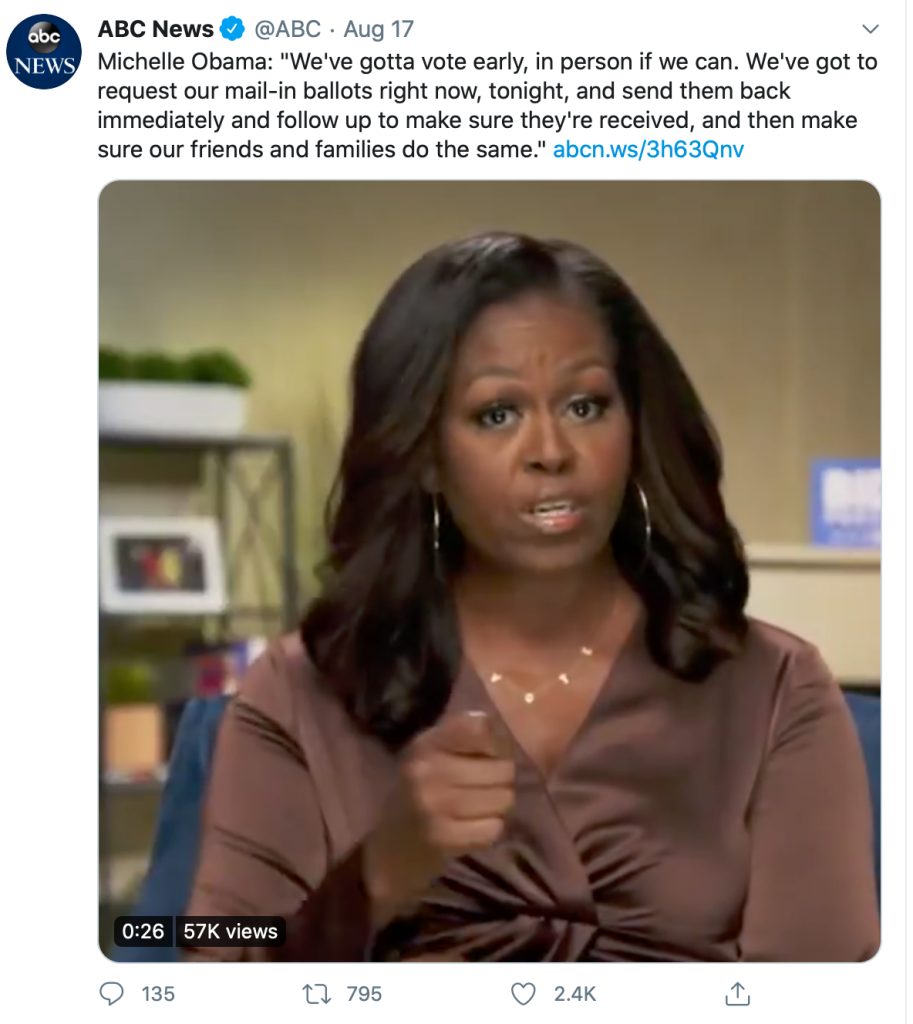 Share the virusfreevotingillinois.org website today!
Want to do more?
Learn more about your Rights as a voter from ACLU.
Become an Illinois Deputy Voter Registrar.
Join the Illinois Vote By Mail Task Force.
Become a hero Poll Worker.
Contact Leni Manaa-Hoppenworth at lhoppenworth@indivisibleil.com 773-216-2067 for more information.